About
Dear Attendee,
It was truly a pleasure seeing you at the Swedish American Life Science Summit in August 2005. Our distinguished speakers, the elegant venues made available by our partners, the lovely Stockholm weather and you, the attendees, all contributed to making the 2005 Summit a great success.

During the Summit, we were privileged to hear insights from some of those who shape the Life Science Industry today. At the same time a select group of companies got the opportunity to meet some of the world's most important investors and decision makers. We are most grateful to our partners who made it possible for us to meet and discuss at venues such as the Tessin Palace, the private residence of US Ambassador Teel Bivins, the private estate of Dr. Peter Wallenberg and the Kreab auditorium in Stockholm, Sweden.

Delegates' comments on the event have ranged from "One of the best investment related summits I have ever attended - and I have attended many", by a US venture capitalist, to "I very much look forward to next years summit, but can not at the moment think of what you need to do better at that time", by an international fund manager.

Naturally, we could not be more happy with the outcome.

Once again, our sincere gratitude to you all, and we look very much forward to welcoming you back again in 2006.

On behalf of the Organizing Committee for the Swedish-American Life Science Summit 2005

Sincerely,
Barbro Ehnbom
Du Haan Groupe, Inc.
Magnus Gink
StoneWall Partners
---
About the Swedish-American Life Science Summit
The Swedish-American Life Science Summit 2005 is the first in a series of annual summer summits in Stockholm, a by invitation only format where we present a program featuring some of the best known Life Science executives and investors in the world.

The intense and exclusive two-day program includes high-level panel discussions, insight from keynote speakers as well as a few select presentations by successful and promising companies from Sweden.

It is our hope and ambition that the summit will serve to increase the amount of cross-border business between the largest market in the world, the United States, and one of the most important Life Science industry centers in Europe, Sweden.
---
About the Organizers
The people behind the first Swedish-American Life Science Summit, which takes place in Stockholm in August of 2005, combine a long experience in the US pharmaceutical industry and Wall Street with today's financial services within the field of Life Science in both countries.
Barbro Ehnbom was one of the first female executives in the US drug industry, and a top analyst in Wall Street, followed by many years of investment banking. As a long time board member of the Swedish-American chamber of commerce and chairman of the Swedish Economist Group in New York, she has 25 years of experience in organizing events between the two countries.

Magnus Gink, a lawyer with an MBA, met Ms Ehnbom when he was in charge of the SACC NY business division ten years ago. He has been CEO of Result Ventures USA, and is currently a director of investment advisory company StoneWall Partners.
---
Barbro's Best & Brightest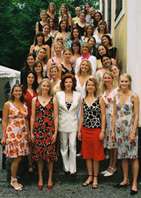 In connection with her Female Economist of the Year Scholarship at Stockholm School of Economics, Barbro Ehnbom has also founded a network of best and brightest young women in Sweden, BBB. Several of these young business women are in the biotech fields and will be available to answer practical questions through out the summit.
Please contact Ebba Kraemer for further information.
---
Comments on the summit
"Medicine and Life Sciences are traditionally strong research fields in Sweden. Medicine was one of the priority areas in the recent Government Bill on Research. We redoubled the funds for research in medicine to the Swedish Research Council. Stem cell research is one area where Sweden is particularly advanced and where cooperation with the US is well established. This summit is a most welcome initiative and I believe this to be an excellent opportunity to further broaden and strengthen the cooperation between our two countries".

- Göran Persson, Prime Minister of Sweden
"Sweden has a distinguished history in advancing the impressive evolution of the pharmaceutical industry. Now, the Swedish academic community is helping to forge the new frontiers of the biopharmaceutical industry whose remarkable advances are changing the face of medicine".

- Frederick Frank, Vice Chairman Lehman Brothers
"The Swedish-American Life Science Summit signals a strong common interest in Biomedical Science and Biotechnology as a means of facilitating development of novel products/strategies to improve healthcare worldwide. Sweden's commitment and contributions to biological and medical science are well known, and its involvement in Biotechnology and Pharmaceutical sciences have been exceptional especially for a country its size. I believe that this event may help to establish more active collaborations and partnerships at the level of venture investing, and corporate relationships, especially among SMEs. Ultimately these will provide wider access to the financial markets. It is now universally accepted that Biotechnology is a worldwide industry: it needs transnational corporate partnerships in order to maximize the outcomes from the various programmatic approaches to prevention, diagnosis, and treatment to disease, and also optimize the return from the substantial capital required to develop products and make them available worldwide".

- William Rutter, Chairman Synergenics
"Thanks to Barbro Ehnbom and all involved in putting together the Swedish American Life Science Summit in Stockholm. How fitting that the meeting is here with the latest advances appearing on a regular basis by Professor Uhlén and his colleagues in the Human Proteome Resource project - immense amounts of data on proteins that will be highly valuable in the work toward new therapeutics and diagnostics. Sweden, with its dedication to science, particularly life science, is the perfect venue for this meeting to assay our progress".

- Ambassador Charles A. Heimbold Jr., former CEO Bristol Myers Squibb
"One of the great challenges for the medical research community is to use the new information about the human genome to increase our understanding about the building blocks of human life (proteins) and to facilitate the development of new therapies and diagnostics to benefit mankind. Sweden has had a long tradition, both in academia and industry, to develop and use tools for studying proteins. In the end of August, a new Swedish based Human Protein Atlas database will be released to the public with more than 400,000 high-resolution images corresponding to more than 20 Terabytes of original data. The database is aimed to be a knowledge-base for academic and industrial researchers with regard to structural and temporal presence of protein in normal and disease tissues, with particular focus on the major cancers".

- Professor Mathias Uhlén, Royal Institute of Technology
"Man exists for man's happiness, according to an old Viking saga. Bioresearch is now a decisive factor in enhancing this situation".

- Professor Hans Wigzell, former president Karolinska Institute