The Swedish-American Life Science Summit
Dear Attendee
The Swedish-American Life Science Summit is a series of yearly events held in Stockholm, Sweden. By bringing together the largest life science market in the world, the U.S. with Sweden, one of the most vibrant life science regions in Europe, the summit functions as a meeting point for discussions, investments and networking.

The next summit is planned for June 13-15, 2007 in Stockholm
---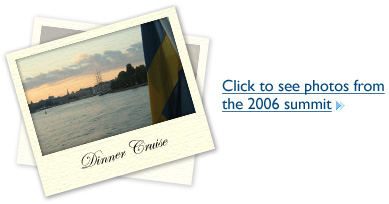 SECOND LIFE SCIENCES SUMMIT IN STOCKHOLM IS BREAKTHROUGH EVENT
Commentary by Udayan Gupta, WSJ Journalist and Author
More capital. Better communications. Increased co-operation between big pharma and biotech. These were the dominant themes of the Second Swedish American Life Sciences Summit (SALSS) recently concluded in Stockholm.
The second summit, attended by some of Sweden's top bioscientists and science policy makers and a select group of US investors and entrepreneurs " reinforced the need for such meetings and demonstrated how much more we can do," says Barbro Ehnbom, chairman SALSS. Hopefully, the years ahead will see even more networking and consummation of deals, Ehnbom noted.
Swedish bioscience continues to be among the most vibrant science economies, not only in Europe but around the globe. It has had tremendous success in initiating research in key bioscience segments and in developing new products and services, said Mathias Uhlen of the Royal Institute of Technology. But for the industry to make significant strides it needed capital and partnerships that would accelerate its progress. Professor Harriet Wallberg-Henriksson, president of the Karolinska Institute pointed out that Karolinska continues to be a leader in research and in its ability to take research to the commercial stages. Karolinska has an innovation system that is unique and trend-setting, a system that provides capital, services and management support. But for it to be optimally effective there was the need for more partners, especially in big pharmaceutical companies and other bioscience entrepreneurial efforts, and for more patient capital that recognized the nature of bioscience development, Wallberg-Henriksson said.
Two of Sweden's top venture capitalists – Eugen Steiner and Mikael Brönnegård – echoed her sentiments and added that the industry would benefit from a larger pool of capital, early stage as well as expansion. However, the nature of the biosciences - long development cycles and capital intensive R&D – suggests the need for new paradigms.
Biosciences in Sweden is alive and well and holds great promise for potential investors and corporate buyers. But there is still the problem of making the information available and accessible, noted Professor Hans Wigsell, former head of Karolinska and now science policy advisor to the Swedish government. "If you can't explain it to your grandmother, you don't know how to do it," he added.
SALSS' Ehnbom thinks that events such as the Summit are critical to spreading the word and creating a closer bond between bioscience in Sweden and those outside, in particular in the US, the world's largest market, who can become involved and participate in its evolution and development. "We are trying to create a close-knit group – an interactive network that can benefit and contribute."
Udayan Gupta,
WSJ Journalist and Author,
Stockholm,
August 24, 2006
---
Select articles about SALSS 2006
N24/SvD »
Sys-con India »
Dagens Industri »
Biospace »
Businesswire »
Genetic Engineering News »
Finanz Nachrichten »
Pharma Live »
Business Week »

---